Speech and Language Therapists (SALT) are allied health professionals who provide treatment, support and care for with people who have speech, language, communication or swallowing difficulties (dysphagia). They are able to assess an individual's ability to comprehend and to express that understanding to enable them to communicate their choices, and have as much control and capacity to consent to treatment and care as possible. SALT also assess and manage dysphagia in order to prevent malnutrition and dehydration, and to reduce the risk of chest infections and choking1.
Dementia is a disease that can result in a combination of these difficulties and so the work that SALT can offer in care homes is invaluable. Speech and Language Therapy has been identified as an essential aspect of high quality care for older people with dementia in order to support their identity, inclusion and social engagement2. SALT can also work with other professionals to recognise the difficulties people with dementia may experience, and they can advise on how to support them in their environment.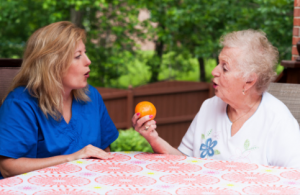 Communication difficulties are often the first features to appear in people with dementia, and this can be incredibly frustrating and challenging for both the individual and their family3. Often challenging behaviour seen by residents can be an attempt to communicate4. By working with SALT, staff can learn how to effectively manage these situations in order to ensure that the resident's needs are met and to prevent the incidence of challenging behaviour in the future. Staff in care homes have stated that a key aspect of their good interactions with residents is effective communication5 and so the work done by SALT can be vital in maintaining these high-quality relationships.
An individual's ability is often determined by their environment. SALT can work with care homes to optimise their environment in order to promote active interaction, involvement and independence in both communication and eating6. These subtle improvements will also enrich relationships between residents and staff.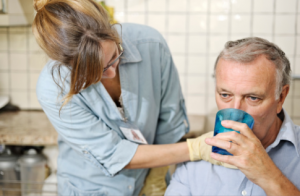 Two-thirds of those with dementia in residential care have swallowing difficulties7 and many others are often observed to have poor oral intake, poor positioning when eating or show signs of challenging behaviour when eating. As well as dysphagia, contributing factors to this may be cognitive impairment, and the fact that many of these people would be given full assistance to eat. Gaining correct specialist advice from SALT can ensure that residents are able to maintain their independence as well as reducing the risk of malnutrition. Intervention can focus on care practice, modifying the environment, adapting equipment that is used, and modifying the texture and consistency of food and drink8.
Staff that are dealing with swallowing problems must have the necessary understanding of dysphagia diet food texture descriptors in order to follow the recommendations made by SALT during a swallowing assessment. Training carers on the identification of swallowing difficulties and the management of modified diets reduces unnecessary admissions to hospitals9.
The Royal College of Psychiatrists (2011)10 recommend that "the Chief Executive Officer should ensure that non-reporting of nutritional status, missed meals or other risk to nutrition is considered a safeguarding issue for people with dementia and reported in accordance with guidance."  CQC inspections focus on proactive nutritional and symptom monitoring and management, which they track through health records or accident reports to establish how a service is monitoring health deterioration and thereby identifying trigger points for referrals to external professionals.
ProRisk encourage all registered managers and providers to ensure processes are in place to identify meaningful measures, to monitor, evaluate and audit trigger point criteria, and to ensure, through effective documentation, that timely referrals are submitted and backed up with robust, effective guidelines for staff. Quality training should also be provided in this area. At ProRisk Care Consultancy, we work with clients to identify strengths and weaknesses in their care services. We discuss the issues, provide recommendations and solutions, and make proposals for change, before introducing, implementing and supporting management in the establishment of these quality enhancements.
Staff in care homes should be mindful of the residents' medical state when considering mealtimes. Whilst they may not have previously demonstrated any difficulties with swallowing, illness can easily reduce their physiological reserve, resulting in dysphagia, and increasing the risk of aspiration pneumonia. If there are any concerns, an assessment or review by SALT should be requested.
Without the input of Speech and Language Therapists, residents risk losing meaningful interactions with carers11 and they can experience a decreased quality of life and sense of personhood, as well as being at risk of malnutrition or choking. SALT are also able to provide differential diagnoses, and without this, treatment can be delayed or misguided, therefore Speech and Language Therapy should be easily accessible by all service providers.
---
References:
1 Royal College of Speech and Language Therapists Dementia Factsheet
https://www.rcslt.org/speech_and_language_therapy/dementia_factsheet
2Gorska, S., Forsyth, K., Irvine, L., Maciver, D., Prior, S., Whitehead, J., Flockhart, J., Fairnie, J. and Reid, J. (2013) Service-related needs of older people with dementia: perspectives of service users & their unpaid carers. International Psychogeriatrics
3 Egan, M., Berube, D., Racine, G., Leonard, C and Rochon, E. (2010).Methods to enhance verbal communication between individuals with Alzheimer's Disease and their formal and informal caregivers: A systematic review. International Journal of Alzheimer's Disease
4James, I.A. (2011) Understanding Behaviour in Dementia That Challenges: A Guide to Assessment and Treatment Bradford Dementia Group Good Practice Guides
5 Searson, R., Hendry A.M., Ramachandran, R., Burns, A. and Purandare, N., (2008), Activities enjoyed by patients with dementia together with their spouses and psychological morbidity in carers. Aging & Mental Health, 12, 276-82.
6Lubinski R. (1995) Dementia and Communication. San Diego: Singular Publishing
7Steele CM, et al. (1997) Mealtime difficulties in a home for aged. Dysphagia 12:1, 43-50.
8Biernacki C and Barratt J (2001) Improving the nutritional status of people with dementia. British Journal of Nursing; 10, 1104-1114
9Brodaty H and Peters KE. (1991) Cost effectiveness of a training programme for dementia carers. International Psychogeriatrics; 3, 11-23.
10Royal College of Psychiatrists (2011). Report of the National Audit of Dementia Care in General Hospitals. Editors: Young J, Hood C, Woolley R, Gandesha A and Souza R. London: Healthcare Quality Improvement Partnership. http://www.rcpsych.ac.uk/pdf/NATIONAL%20REPORT%20-%20Full%20Report%201201122.pdf
11Nolan M, Ingram P, Watson R. (2002) Working with family carers of people with dementia. Dementia; 1:1, 75-93.