One third of people over 65 years are at risk of malnutrition on admission to hospital, and 50% of people admitted to hospital from care homes are at risk of malnutrition (BAPEN, 2014). The cost of malnutrition is estimated to be in the region of billions of pounds a year: it is clear that there is an urgent need for health care providers and commissioners to address this problem and the use of a simple paper armband could tackle the important battle against malnutrition.
The Paperweight Armband has been proposed by the Salford Royal NHS Foundation Trust and Age UK Salford, who are part of the Malnutrition Prevention Programme. The Programme encourages local NHS trusts, hospitals, GP practices, care homes and community groups to unite in tackling malnutrition, with the aim to significantly reduce the number of people aged 65 and over who are malnourished.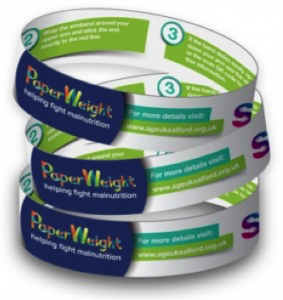 The PaperWeight Armband was devised by consultant dietician, Kirstine Farrer, and her team as a non-intrusive way of signposting health care providers to those who are underweight so that an individual health care plan can be devised in order to consider how to improve dietary intake, and provide support to the individual.
The armband is simply a strip of paper that would be wrapped around the arm of an older person to measure their upper arm circumference. This will be able to identify a person who is at risk of malnutrition; if an elderly person can easily slide the armband up and down their upper arm, it is likely that their body mass index (BMI) is less than 20, which would then signpost them to health care providers as being malnourished. The armband is easy to use, with instructions printed on the inside, and a QR code on the paper will enable the user to be directed to the Age UK Salford website where they have access to advice and support on how to effectively tackle malnutrition.
"As well as helping people to make improvements in their weight without the need for formal medical intervention, it is hoped that this will help to increase the proportion of older people who feel supported to manage their own conditions and improve the quality of life for service users and carers."
– Ayela Spiro, British Nutrition Foundation – QCS Expert Nutrition Contributor
Salford has pioneered the fight against malnutrition. After the launch at the Expo Food Live Matters at the end of 2015, many other organisations across the UK are considering introducing the Paperweight Armband following its success in Salford, which will help save lives and reduce costs.
For more information, please click the links below:
NUTRITION SCREENING SURVEYS IN HOSPITALS IN THE UK, 2007-2011
NUTRITION SCREENING SURVEYS IN CARE HOMES IN THE UK
MALNUTRITION TASK FORCE
AGE UK SALFORD